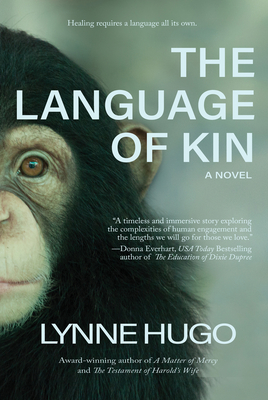 The Language of Kin: A Novel
Publication Date:
July 11th, 2023
Publisher:
Blank Slate Press
Usually Ships in 1 to 5 Days
Description
From the award-winning author of A Matter of Mercy and The Testament of Harold's Wife, comes a beautifully written exploration of how the language of healing can transcend seemingly insurmountable obstacles. Eve, a chimpanzee orphaned by poachers and used for experiments in a medical lab, can finally lead a new life. When she arrives at the Dayton Zoo, Kate and Marc must overcome professional differences to build a relationship with her. Forced to work together, Kate and Marc find common ground when they discover they both are the sole caregivers for their mothers, one who has been deaf her entire life and the other who recently lost her ability to process words. After a life-threatening crisis occurs, can they find the courage—and the shared language—to reach across these silent divides to heal the ones they love?
Praise for The Language of Kin: A Novel
"Hugo takes a compelling look at the ethical issues and connections between humans and our fellow animals. THE LANGUAGE OF KIN offers a well-researched, unbiased perspective into this multifaceted issue through a well-written, captivating story," —Samantha Russak, Ph.D., Primatologist
"Hugo's latest [The Book of CarolSue] is a sweet, sad, funny, meditation on the nature of aging and grief...This is a novel that would fit right in on the shelf next to novels like A Man Called Ove and similar books that balance humor and heartbreak." —Booklist
 
"A widower takes up her late husband's mission to get revenge on the man who killed their grandson in the gripping latest from Hugo [The Testament of Harold's Wife]...Louisa is a charming protagonist." —Publishers Weekly
"[The Testament of Harold's Wife is] A winning and wonderful novel, with a unique and distinctive storyline, there is a little bit of magic for everyone within the pages of this book." —The New York Journal of Books
"The Testament of Harold's Wife is a richly told tale that explores the human/animal connection and the journey to get past tragedy. Louisa, the spunky, elderly narrator delivers a tender hymn of hope and rebirth that stays with you long after the last page." —Kim Michele Richardson, NYT bestselling author of The Book Woman of Troublesome Creek
"The Language of Kin takes something we all possess--our ability to communicate with others--and has us examine that gift with new eyes. Hugo's words are beautiful, but this riveting story shows us how words can often fail, and forces us to see the many others ways we communicate, sometimes even unintentionally. This novel is an emotional read full of page-turning highs and cathartic sorrows. I fell in love with this complicated, compelling cast, both human and otherwise."  —Katrina Kittle, author of Morning In This Broken World
"A timeless and emersive story exploring the complexities of human engagement and the lengths we will go for those we love."  — Donna Everhart, USA Today bestselling author of The Education of Dixie Dupree
"Filled with empathy for all and a plot that will keep you flipping pages as fast as you can." —Audrey Schulman, Author of Philip K Dick award winning Theory of Bastards
"Brilliant, fascinating and deeply moving...gracefully written, this is a book that astonishes, even as it shows the way to cross divides...Full of science, love and drama, I couldn't love this book more if I tried."  —Caroline Leavitt, The New York Times bestselling author of With Or Without You
"An engrossing novel that is sure to tug at anyone's heartstrings."  —Christine Nguyen for Readers' Favorite