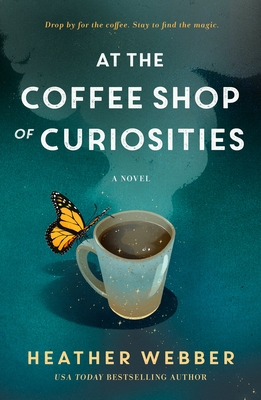 At the Coffee Shop of Curiosities: A Novel
Publication Date:
August 1st, 2023
Usually Ships in 1 to 5 Days
Staff Reviews
At the Coffee Shop of Curiosities by Heather Webber:
This book is delightful! I absolutely adore the way Heather writes, her magical realism, interesting characters, and beautiful settings. Picture receiving a letter that changes your life, a letter from a lost love. A move to a new town filled with quirky people, new opportunities along with a mystery. Heather will sign and personalize any copies. Just call the store for information. You will love this book! Forge, $28.99
— cweber
Description
Signed copies available.
Praise for At the Coffee Shop of Curiosities: A Novel
"Heather Webber is the queen of magical small-town charm. At the Coffee Shop of Curiosities will bewitch readers with its cast of quirky townspeople, enchanting romance, and irresistible animals, while the mysterious events will keep them flipping the pages." —Amy E. Reichert, author of The Kindred Spirits Supper Club
"At the Coffee Shop of Curiosities is like a cup of hot cocoa on a chilly morning. A layered story about the connection between two women and the little miracles that brought them together, Curiosities, too, opens our eyes to the magic of everyday among the people that make our world." —Tif Marcelo, USA Today Bestselling Author of When Jasmine Blooms
"Love, magic, and mystery shimmer from every enchanting page of Heather Webber's latest novel, At the Coffee Shop of Curiosities! From its very first lines, this delightful story--and its wide cast of eccentric, charming characters--pulled me in and held me until its satisfying end. Find a cozy spot and sink into this charming tale brimming with promise, abandoned fears, and love found, lost, and found again." —Lauren K. Denton, USA Today bestselling author of The Hideaway and A Place to Land
Praise for Heather Webber:
"This novel is as warm as the cup of coffee you'll surely want to settle down with as you pick up this book and read straight through to the ending." —Bookstr on In the Middle of Hickory Lane
"Webber infuses her charming Southern small-town tale with lighthearted magic and gentle humor...Readers of Sarah Addison Allen and Joshilyn Jackson will enjoy spending time at the Blackbird Café." —Booklist on In the Middle of Hickory Lane