New Release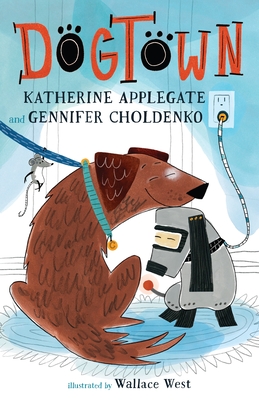 Dogtown (A Dogtown Book #1)
Publication Date:
September 19th, 2023
Publisher:
Feiwel & Friends
Usually Ships in 1 to 5 Days
Description
From beloved authors Katherine Applegate and Gennifer Choldenko and with illustrations from Wallace West, Dogtown is at once an uplifting story and a page-turning adventure, sure to find a forever home in readers' hearts.

Dogtown is a shelter for stray dogs, misbehaving dogs, and discarded robot dogs, whose owners have outgrown them.
Chance, a real dog, has been in Dogtown since her owners unwittingly left her with irresponsible dog-sitters who skipped town.
Metal Head is a robot dog who dreams of being back in a real home.
And Mouse is a mouse who has the run of Dogtown, pilfering kibble, and performing clever feats to protect the dogs he loves.
When Chance and Metal Head embark on an adventure to find their forever homes, there is danger, cheese sandwiches, a charging station, and some unexpected kindnesses along the way.
Praise for Dogtown (A Dogtown Book #1)
An Amazon Best Book of the Month, September 2023
★ "Welcome to Dogtown, a shelter for regular dogs—and robot dogs. The shelter's top dog is Chance, a congenial and introspective pooch, who like all the residents, longs to reunite with her family. But as Chance understands, "Hope is a painful business." That anguish, along with her resentment towards robot dogs (they often get adopted before real dogs) fades as Chance spends time with a robot dog she nicknames Metal Head. Animosity gradually evolves into understanding, then friendship... Super short chapters, perhaps suggesting a dog's alleged limited attention span, keep the novel's pace moving briskly toward a climax sure to please animal lovers despite a few sad moments along the way. Chance captivates with insights that are hilarious and wise beyond her age in dog years: "Your heart is a muscle…It grows stronger the more you use it." Thoughtful back matter suggests how children can help shelter dogs. West's grayscale art perfectly captures canine emotion and unbridled energy. "--School Library Journal, starred review

"Newbery Medalist Applegate and Newbery Honoree Choldenko team up for this uplifting escape novel narrated by Chance, a forthright three-legged border collie/Aussie mix. Self-described as an unadoptable "pity party in a dog suit," Chase is a permanent resident of Dogtown—a shelter for dogs both mammalian and robotic—where she offers amusing and insightful commentary about her fellow rescues, including the animosity between the "flesh-and-bloods" seeking forever homes and the "metal dogs" that many humans consider easier to care for. When an uncharacteristically empathic robot dog, Metal Head, arrives, he makes a bold request of Chance and her friend Mouse: break him out of Dogtown. Unwittingly swept up in Metal Head's flight scheme, Chance and Mouse embark on an adventure that makes Chance wonder about life beyond the shelter. Angular b&w line drawings by West highlight the humorously sketched canine cast, while brief chapters that explore species divides promise to captivate anyone who enjoys rooting for a couple of down-on-their-luck dogs getting a second chance."--Publishers Weekly
"The story offers many moments of laughter and reflection, all greatly enhanced by West's utterly charming grayscale illustrations of irresistible pooches. Eminently readable and appealing; will tug at dog-loving readers' heartstrings."--Kirkus Reviews
"The tension and humor are beautifully balanced in this sympathetic story, and the delightfully distinct voices and memorable characters are enormous fun. Brief chapters set a brisk pace, and charming black-and-white illustrations are incredibly appealing. A sweet spotlight on shelter animals that is as heartwarming as it is entertaining." --Booklist magazine